When I moved into my new home two years ago it was a blank slate. No flowers, no trees, no character graced the Bermuda sod on front and sides and Georgia weeds in the back. I thought about what I wanted and what was most appropriate. So I created a fern, azalea, and Hosta collage along my front northwest facing entrance and a daylily and sweet olive boundary along my west facing side. The rear was a challenge! I have a ten foot high clay ridge capped by a six foot tall cedar privacy fence creating erosion and planting issues. Last summer I elected to create a intertwining rock and landscape block series of small terraces which appears to work well but I need to finish it this Spring. My east facing boundary was kissed by morning sun and shaded beyond noon everyday by house and fence. This is going to be a challenge.
And what arrives by e-mail this morning? Jan Johnsen, a long time friend and contributor to Garden Design magazine, forwarded me her recent article on "7 Steps to a Perfect Cottage Garden" which I intend to share with my readers.
A Cottage Garden would be a great addition to both by shady and sunny sides of the house creating an invitation to my backyard. Her first suggestion is to enclose the Cottage Garden.
On my shady side, that is accomplished. I have a privacy fence on the south side and my neighbor's east side; my house on the west; and, a Home Depot wrought iron fence and gate on the north side and entrance to the proposed garden. This is definitely a "shade garden" in the making.
On the west side, I have my house on one side, privacy fence to the back, and sweet olive plantings on my neighbor's side. They will be capped at about six feet tall creating an enclosed area receiving afternoon sun.
Step two, according to Jan, is to plant closely and keep soil healthy. Currently, I have Bermuda sod which has to go, and heavy clay underneath which has to be amended. I intend to raise the shade garden at least eight inches with a prepared garden soil amended with perlite and vermiculite. As Jan explains…
"Cottage gardens traditionally have plant beds by the house packed tight with plants. This informal crowding of a wide variety of plants is a signature feature and the mix of perennial and annual flowers with vegetable and foliage plants, twining around each other and competing for attention, is what makes a cottage garden so fascinating. Here I planted Clematis 'Jackmanii', climbing up a fence, fronted by Nepeta racemosa 'Walker's Low'.
"Good, rich organic soil ensures that overflowing plant beds look great—and plants stay healthy—from day one. Make sure to incorporate plenty of compost in the soil and use compost, tea, or fish emulsion fertilizer. Also cover the soil with mulch (not dyed). Mulch is important as it maintains soil moisture, keeps temperatures steady, and improves soil as it breaks down."
Step three is to use curving pathways.
In my first summer of two, I installed a flagstone walkway with gentle curves from the front of my house to the rear through the cedar fence. On the sunny side I planted a beautiful set of Blue Star Creepers between the stones which looked great the first year with the bright green foliage and tiny blue stars but by the second Spring they were overtaken by Bermuda grass infiltration as I didn't install a landscaping border to keep them separated. That I will do this year and then replant the creeper. Jan continues…
"Soft, curving pathways are at home in a cottage-style garden. They add to the homey feeling and invite people to explore further. You can use hard surfacing like bluestone (as I did here in this garden in New York), brick, or a combination of old bricks, tile, and stone. Soft paving like wood chips and gravel also work well as long as the walkway is edged to hold these materials in bounds."
"Mix and Match" is her fourth suggestion. I enjoy having challenging textures and colors and the experiment with Kimberley Ferns, Hosta, and pink azaleas in my front yard garden was a success.
"Color theorists may scoff at mixing certain colors together, but in a cottage garden anything goes! Here I planted the deep-red Easy Elegance® 'Super Hero' rose with the ever-blooming lavender perennial geranium. The geranium has exceptional heat tolerance and blooms throughout the summer. It also grows easily among the roses."
Jan then suggests that we "Use Fun Elements". That is easy for me as I already have solar lights, frogs, ducks, a snail, Mexican pots, and many other items of interest in all areas of my landscaping. Having seven grandchildren encourages me to be creative as I want my yard to be an adventure for them. According to Jan
"This is where a cottage garden shines! It is such a joy to add items that delight you in a garden and share your vision with others. Place an old wheelbarrow in a corner or moss-covered statuary in a bed. Tools, lanterns, and stone finials, as shown here, all become part of the cottage garden tableau. The idea is to have fun."
Guideline six, says Jan, is "Don't Follow the Rules".
"Be free in your cottage garden! Of all garden styles, the cottage garden is one that is meant to delight and appeal to your own personal taste. Plant cabbage among the flowers or Swiss chard along the path. Do not follow "the rules." Plant whatever appeals to you—there is no 'no'.
Here, I combined silver Artemisia with dianthus and the star-shaped 'Blue Star' Laurentia axillaris. This is an annual flower in my part of the world and has soft blue blossoms that flower nonstop from June. It is a great filler plant and has lovely, ferny foliage".
Jan's prime suggestion is "Go for the Romance".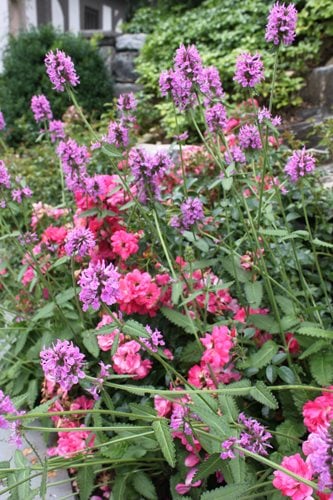 "Most cottage gardens seem to set a romantic tone. Maybe it is because pastel shades are favored here or perhaps it is because fragrant flowers are popular in this kind of garden. Peonies and old roses scent the air and add that touch of sumptuous sensuality.
But there are many plants you can use. In this photo, I planted lavender Stachys officinalis 'Hummelo' along with Flower Carpet® 'Pink Supreme' Roses for an exuberant effect. They are both fairly easy to grow and the Stachys tolerates some drought. Its scalloped leaves also add to the scene."
Please note that all the above photos are from the latest edition of Garden Design and I am sure were taken by Jan. The challenge is now mine and I have been thinking along these lines for two summers and this summer I will pull it together!
Jan welcomes you to sign up for free future articles at the following website: https://www.gardendesign.com/newsletter.html